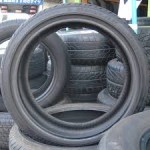 Hey Austin, love your site man keep it up. Quick question, how much does it cost to balance all four tires on my Chevy truck?
Danny T.
Hey Danny,
Thanks for the email and the nice comment. The dollar amount can differ greatly from shop to shop and from locations with higher labor rates like in California which is high versus Louisiana which is much lower labor rate wise.
The price you are paying pays for the time it takes to remove the wheels from the vehicle and then put them on a spin balancing machine one at a time to balance them out.
It can take anywhere from 1.0 – 1.5 hours for bigger trucks and SUV's and dulley vehicles with 4 rear wheels to 30 minutes for a standard size vehicle like a Toyota Camry.
I have seen shops charging $85 for a rotation and balance and seen a few shops charging $45 for the same operation.
Now, one thing to keep in mind is future balancing after you buy the initial tire and mounting and balancing.
I bought my last set of tires from NTB, and they will balance and rotate my tires free of charge once a year and I did not pay extra for that either.
A good rule of thumb is to rotate your tires every 3 oil changes (about 9,000 miles) and balance them every 5 oil changes, or about every 15,000 miles to help extend their life and give you a smooth ride.
Some tire stores sell an upsell type of warranty that covers road hazards like nails, and also includes free rotation and balancing as well for the life of the tire. This is totally up to you, I usually decline this option but have heard from friends and customers that they were glad they had purchased it.
If you hit a curb and blow out a tire (can't say I have done that) the road hazard protection would replace the tire for you for free. So depending on how you drive, and the cost of the road hazard upgrade it may or may not be worth it to you.
I think I saw my local Walmart offering to balance and rotate tires for $39 the other day, which is a good deal these days.
Make sure to ask the mechanic to inspect your brakes while the wheels are off, it's free!
Please share this with your friends,
Austin Davis