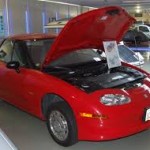 Austin, are you familiar with the GMAC Smartlease Program? What are you thoughts about it?
Doug H.
Houston, TX
Hi Doug
Let's first talk about the differences between the GMAC SmartLease and the GMAC SmartBuy Programs. (I do not work for GM nor am I suggesting that one of their new car finance options are right for YOU…I am just giving fact.) Now, GMAC is called Ally Financial.
GMAC SmartLease
You don't own the vehicle…you are leasing…so you are basically borrowing it.
Upside You drive it for a few years or so then turn it back in to the dealer and get another GM vehicle. I own my own company so I can use my car as a "company vehicle" and take the lease amount as a company expense. So, as a business owner this type of lease works out great. I get a new car every 2-3 years and get to expense it out of my company.
Downside
You don't own the vehicle, and the payments you have made are basically paying interest and not much on the principal on the vehicle. This is where you hear the term "upside down", the car is worth less than what you still owe…so most people opt to trade the car in at the dealership and get into a new car and a new lease. You are basically "Renting" the vehicle and only paying the accruing interest and finance charges.
Benefits of GMAC Smart Lease
1. Get a new GM vehicle more often than if you purchase it right out, with about the same monthly payment.
2. Low monthly payments
3. No trade in or re-sale issues
4. Can be arranged thru any GM dealership
Benefits of GMAC Smart Buy
1. Get to drive a new GM car more often than if you just bought the car right out
2. Low monthly payments with a final balloon payment due at the end of the contract
I found this video helpful, take time to watch it too.
Some end of year contract options are
1. You can keep possession of the vehicle and make a balloon payment at the end of year to purchase it outright
2. You can decide to sell the vehicle and pay off the balance, thus keeping any profit you might have
3. You can turn in the vehicle and pay a usually very small "vehicle disposal fee" but will also be responsible for excessive mileage, excessive wear and tear or damage charges they might impose.
OK…..let me be totally honest here…..most lease contracts are NOT good deals. Sure they sound great on the TV commercials, with their low monthly payments and low down payments (if any down payment is required) but you better inspect the fine print very close…..there is usually always a "gotcha".
In my opinion, leasing is great for businesses that can write off the cost as an expense, and they are great for the people with little money to drive a car that they really can't afford and should NOT think about buying in the first place.
If your goal is to look good driving around town in your new $40,000 BMW that is only costing you $600 a month…..then get the lease. But be aware of what it is going to cost you to get out of the lease once you realize it is not really a good deal for you, and all your friends have caught on to the fact that you are all show.
Please share this with your friends,
Austin C. Davis