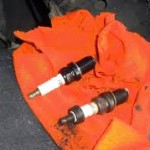 My car just had a transmission put in it and the guys that are working on it said it is misfiring now. What does it mean when a car misfires? Do you know what could be wrong with it?
Thanks
Nicky
Hi Nicky
Misfire means – the engine is missing…not running on all cylinders – running rough – hesitating etc. Usually something like the need for a tune up, spark plugs or spark plug wires  or ignition coil are the culprit of misfiring.
Of course there is always the possibility of them accidentally pulling a spark plug wire off or something like that while they were removing and installing the transmission.  If this happened immediately after the transmission repair I would bet they did something or unplugged something to cause this problem and would go back and see them for further inspection.
Most cars have lots of sensors and rubber vacuum hoses on them too, and any of them that get accidentally unplugged or wires or hoses cut…will usually turn on the check engine light as well as produce an engine missfire or running bad complaint.
In the case of a vacuum hose unplugged, with the engine running and hood up listen for a slight hissing noise caused by the hose being unplugged from its vacuum source. Typical areas are around the air cleaner box and the top of the engine around the throttle body.
So start with the easy stuff, look for anything unplugged or out of place first.
Please share this with your friends,
Austin C. Davis