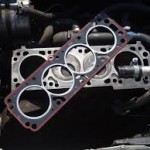 I usually get my oil changed at Jiffy Lube because they are convenient and I can't crawl under my car and change my oil like I used to.
I got it changed there a few months ago and shortly thereafter my car started to overheat and the heater stopped working. If I revved the engine really high it would cool off and if I was idling the engine would get really hot but the heater still blew cold air (this was in February in Utah.
I decided to check my coolant thinking that maybe I needed to get it changed out. When I opened my coolant reservoir it looked like a melted chocolate milkshake… I even stuck my finger in to see what the consistency was… it was thicker than coolant but not by much.
I checked the oil and it was fine on the level and was still that greesy black color. I took my car to my normal mechanic and he said that first thing is that we should do a coolant flush, but that it sounds like my car has a blown head gasket.
I dropped the car off and talked to him the next day and he said that he can't even get the car to drain, the coolant was too thick. I called the Jiffy Lube and asked the manager there if there was any way it could have been them, he said that the coolant must have gotten bad some other way.
I had the thought that they may have added oil to the coolant instead of the oil reservoir… He ensured me that there was no way they would have done that, but he flushed most of the old coolant out for me and filled it back up with clean, and yes, he did not flush all of the bad coolant, but a great deal… it was chunky.
What this video IF YOU DO suspect a head gasket leak, this talks about my favorite sealer additive.
He also topped off my oil that was now really low. My heater started to work again, but the engine still overheated. My shop guy told me that in order to get my gasket replaced I have to pay $900. I haven't driven my car since and when I started it I could tell there was coolant somewhere in the engine because of the white smoke and the antifreeze smell.
My question comes to these:
1. Why was the antifreeze chunky and the oil didn't have any issues at all?
2. I know you're going to suggest a compression test, is there any way to do that without going to a shop… I am really short on cash and can't even really afford the $65 or so
3. Is there any other way to tell if you have a blown head gasket? How good is the K&W product and is there any chance it will make my engine worse?
4. Lastly, how hard is it to change out a head gasket? I am pretty good with cars, I just hate working on my only vehicle…
~Brooke
Hey there Brooke
So your engine is overheating……all the time, or just at idle speeds? You DO have white smoke coming out of the exhaust pipe??? Does the engine miss-fire and run bad and does the check engine light come on? Are you continually adding coolant to the radiator?? I would expect all these things to be happening if you had a blown head gasket or an internal coolant leak.
Has your mechanic performed a cooling system pressure test to see if there is a leak in the system? If not get another mechanic, that is the first thing you do in a situation like this!!
I am not real sure what the junk is inside your radiator….it could just be rust, which I have seen "chunks" of rust in a cooling system before and the rusty water will look almost orange/chocolate appearance.
If you were in my shop I would FIRST pressure test the cooling system for leaks….this should also tell you if you have a leak internally to the engine like a blown head gasket. A compression test will tell you if the engine is worn out or there is an internal mechanical problem….which I don't think you have.
If the pressure test shows that there IS an internal coolant leak then yes, by all means try the K&W Block Seal Additive I talk about on my site….I assume you read my article on how to use it (not like the directions on the can tell you how to use it in the video above)
If your mechanic even suspects there is an internal coolant leak…I would use the K&W additive anyway….it wont hurt anything if you don't have a leak.
I have a STRONG feeling you will need to replace your radiator though BEFORE you try the block additive. If you have chunks of stuff in your radiator you most definitely have some restriction in your radiator and "flushing" will NOT remove the junk at the bottom of the radiator that is restricting your coolant flow to the engine.
You can get a fairly cheap after market radiator for this vehicle and install it yourself then do the block sealer trick.
The heater core is basically a small radiator inside the dashboard, so I would suspect your heater core is restricted with what ever this chunky stuff is hampering your heater operation. You might be able to remove both heater hoses under the hood and flush out your heater core with a water hose to remove any loose debris that is lodged in there.
Also you need to replace the thermostat….anytime you replace the radiator or do anything to the cooling system.
Keep me posted will ya?
Please share this with your friends,
Austin Davis