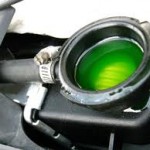 I have a Buick Century,  I have noticed motor oil in the coolant. I had the radiator flushed a year ago but after a while the oil was back in the coolant.
Someone told me to have the coolant flushed again and add Blue Devil Head Gasket Sealant to the radiator, and  it would solve all my problems. Do you think that will fix the problem or is there something else you would recommend.
Regards
Chris
Hi Chris
Wellllllll, not real sure you have a "problem" not to uncommon to see a little oil residue in the coolant from time to time. I would first HIGHLY recommend you get a pressure test or the cooling system , which will show if there is a coolant leak somewhere internally inside the engine.
Sometimes you will see a LITTLE white looking foam/froth on the underside of the engine oil cap, this is usually due to a very small coolant leak at the head gasket which is inside the engine. A little oil can get into the coolant via a leaking head gasket, or just from a previous coolant repair, like a radiator replacement.
This is how you use the tester (which you can borrow from an auto parts store)
This is a quick and cheap test any mechanic can do for you. If you still suspect there is an internal issue then sure, it won't hurt to try a "head gasket" type of coolant sealer.
I have never used the sealer you mentioned, but have had GREAT success with  K&W Engine Block Sealer, which is available at your local auto parts supplier.
Here is the link to MY instruction on how I use K&W Engine Block Sealer to repair blown head gasket issues and internal coolant leaks.
Click To  – How To Use K&W Engine Block Sealer
Also this is a video I made talking about how to use it…my way, which is easier than the can instructions.
In any case, unless your engine is overheating, or you are constantly adding coolant and or engine oil I don't really think you have much of a problem here, not enough to get excited about anyway.
Please share this with your friends
Austin Davis