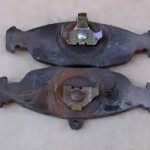 I was wondering, have you seen in your experience that Dodge OEM Brake Pads are much better than aftermarket models? I was told by a dodge dealership that the original quality pads the car came with would be much better than aftermarket!!! I have a Dodge Stratus which needs front brake pads.
Thanks,
Mark
Hello Mark,
The OEM original set of brake pads always seem to last longer than ANY other pad you will install on the vehicle. Don't know exactly why that is, but it always seems the very first set of pads will produce the longest life span.
I am not 100% sure you will get more mileage out of the OEM Dodge pad than you would, say a Raybestos or Bendix or Wagner aftermarket pad…all are great pads. You MIGHT however get less squeal and noise complaints out of an OEM Dodge dealer pad.
If you don't think you got the proper lifespan out of the OEM pad, you might try an aftermarket one this go around and see if they are better.
If you DID get good life out of the OE pad (30,000+ for front pads and about 40,000+ for rear) than I would probably use the OE again…..UNLESS there was a huge price difference in the job.
The price of brake pads are pretty cheap these days, but if you can't get 30K miles out of them…it will cost you more in the long run than if you used the superior pad…you will have to decide which is superior.
On my Lexus…I only use Lexus pads. They hold up better, don't make noise, and only cost $12 more than aftermarket…it's a no brainer. On my Chevy truck, I will use what ever is cheapest, I have not seen that great of difference in OEM versus the cheap made in China stuff, but the price savings is HUGE.
Make sure the brake rotors are replaced or resurfaced when installing new brake pads, that will expend the life of the pad and ensure even wear as well.
Please share this with your friends,
Austin C. Davis