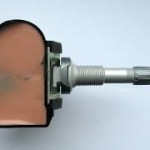 I was at my local Discount Tire store the other day, getting a set of new tires on my wife's vehicle and while I was there I asked them to reset my TPMS (Tire Pressure Monitoring System) warning light that was on the dashboard.
The TPMS light came on soon after a tire was replaced and rebalanced so I assumed the sensor inside that tire needed to be reset or something had happened to the sensor itself.
The mechanic at Discount tire came in to the waiting room and handed me the old sensor and said "the batter is dead, we will replace the sensor for you".
Well another customer was interested in seeing the old part and asked me a few questions. I thought since this person had never seen or even heard of this sensor before that I would share this information with you as well.
I made a short video below that might come in handy one day. Check it out now.
TPMS FAQ
1. There is a sensor in each tire, and usually in the spare tire as well IF you have a full sized spare tire not a small temporary tire…which would not have a sensor inside.
2. Each sensor has it's own internal battery, some have a replacement battery some just require a new sensor because the battery is not serviceable.
3. If you change your tires, the sensor stays with the wheel since it is part of the air valve stem. You do not have to change the sensors just because you buy new tires.
4. You can change the sensor yourself IF you have the tools to remove the tire from the wheel. 🙂
5. You can use a handheld scan tool to test each sensor to determine which one is faulty, your tire store should have that tool and check your sensors for you.
6. You can not remove the sensors without causing the yellow warning light to come on the dashboard, which will make it impossible to get a safety inspection with that light on.
7. How long do the sensors and batteries last? I have been told they are supposed to last 10 years, but as with any other battery operated device they can fail at anytime.
8. Low tire air pressure will set off that yellow warning light, so check tire pressures first (including the full sized spare). Cold weather changes will cause the air inside the tire to contract, so it's pretty common on the first cold day of the year to change air pressure and set the warning light.