Toyota Houston – The 2006 Toyota 4Runner
is a brand new ride. And if you need a Toyota 4Runner accessory, this is definitely the vehicle worth accessorizing. So take a look at what the 2006 Toyota 4Runner has to offer—you'll be glad you did.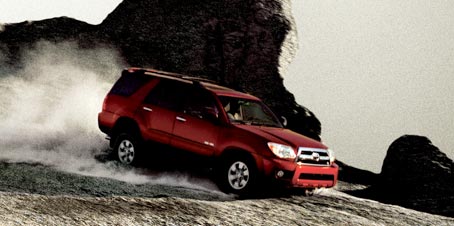 Have you seen the redesigned 4runners? They are all new, and I mean from the frame up. This would be the 4th generation of the 4runner. The first models were just pickups with camper shells. I think they modified them slightly up until 1995. In 1996, the 4runner was redesigned completely into an SUV. The new 4runners are no slouch, either. They have been totally redesigned from the ground up.
I have a 1996 4runner. I bought it in 1997. It has been the best vehicle I have ever owned. I've been threatening to get another 4runner, but I wasn't really thrilled with the ride quality of my old 4runner. Then I drove a new one. They aren't the same vehicle. Maybe in name only, but the new one is so much smoother.
My 4runner has a stout v6, but this 4runner I drove had a V8 with some power. It has 270 hp and 330 lb-ft of torque. My old v6 only has 183 hp. Quite a jump in power. Even the new 4.0 V6 models have 245 hp. That's a marked improvement.
New features include automatic limited-slip differential, side curtain air bags, traction control, 3rd row seat along with this neat double decker cargo system in the back. I'm just surprised at all the new features and benefits from the new model over the rendition I've got.
You can even adjust the rear cargo height to make it easier to unload. Then when you go off road, you can raise it in high mode. Otherwise, the self leveling feature keeps the 4runner where it needs to be for the most comfortable ride.
I found out theV8 is an option on all models. The SR5, sport edition, and even the Limited all come standard with the V6. Now, that V6 will move. The V8 actually gets a little better gas mileage. Go figure that one.
The SR5 to Limited range is not very much. A few nice options are added to the Limited version. But the things you would think need to be standard are not, like side curtain air bags. Moonroof and homelink would be some nice additions I would like if I was to get another SR5 like I have now.
The new 4runner is truly a remarkable improvement over the previous models. Just as the 1996 model was so significantly improved over the 1995 models. Try out the new Toyota 4Runner; you'll be as impressed as I was.
And check out the incredibly Toyota 4 Runner accessory options. From bike racks and hood protectors to cargo nets, mats, and totes, there is a full line of accessory options available both when you buy your 4Runner to after market items.
Roof racks, hitch-mounts, bike and ski/snowbroad attachments are available through your Toyota Dealer. Yakima racks and attachments are warranted solely by Yakima, USA.
If you want to replace your drab pedals with a set of sport pedals, you can get cool ones by OBX Racing directly from your Toyota dealer. This great Toyota 4Runner accessory is available in sleek silver finish for automatic and manual transmission. Pair them with wheel locks and towing accessories, and you are ready to hit the road–any road.
Stuart Simpson http://www.toyota-trucks-review.com
Article Source: http://EzineArticles.com/?expert=Stuart_Simpson