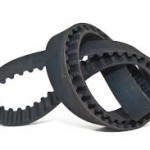 Hey Austin, can you give me a rough estimate on what the timing belt replacement cost would be on my 1999 Honda Accord with the small 4 cylinder engine? I have been told so many different price quotes that I am not sure what the correct/normal replacement cost would really be.
Dan
Hey Dan,
I would estimate your timing belt replacement cost to be about $280 for parts and labor in my shop in Houston, with a $90 labor hour rate. What you are probably experiencing is these additional and probably warranted extra costs.
Since you can not physically SEE the timing belt with your naked eye without removing the front part of the engine you have to replace the timing belt via time and mileage. So, in your case I would recommend a timing belt replacement at 80,000 miles MAX or 10 years on the belt life.
Since we have to take the front part of the engine apart to get to the timing belt now is a great time to replace other belts (since we will have to take them off to get to the timing belt anyway) and some shops like to replace the water pump, which is inside the engine and is driven by the timing belt.
Here is a great video showing the entire process
Also, some shops and dealerships recommend replacing the timing cover oil seals while they are inside the front part of the engine and even then some shops and dealerships like to replace the timing belt tensioner pulley while they are inside the engine area.
So as you can see, you are going to get all kinds of timing belt replacement cost quotes from different shops who perform the repair differently.
Which shop is correct??
Great question. All of them COULD be correct. In my shop I would quote you the price just to replace the timing belt itself BUT warn you that other costs COULD be warranted during the repair.
You would not want to replace the timing belt and not a leaking water pump (if we find the pump to be leaking during belt replacement) and you would not want to reinstall old cracked belts for the a/c, alternator etc. etc. when we have them in our hands and you have already paid the labor to remove them.
I can only suggest that you find a shop that will look after your best interests, so you should quiz the shop on what they offer/do once they tear down the front part of the engine. You might also want to get a worst case scenario price from them in the event a water pump or timing seals are needed.
In a nutshell, its hard to determine what if any additional costs might be involved in a repair like this.