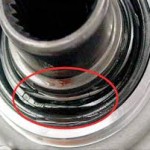 I own a Dodge Grand Caravan with a 3.3L engine. This spring my wife was complaining that the motor was ticking. I figured that it was the lifters so I called my mechanic and set up an appointment. He called me later and told me the car was about 2 1/2 quarts low on oil and that I had 2500 miles since my last oil change. He asked the change the oil to see if that would help. He changed oil and the ticking went away.
I have since been checking my oil regularly. I found that I was burning about 1 quart every 1000 miles. Talked to the mechanic and she said that it was probably the valve seals and told me to try an additive AT-205. I did this and the oil consumption has dropped considerably. We just returned from a 600 mile trip to find that we burned less than 1/8 of a quart.
My question: Is this additive going to cause any damage to my engine? Also how long will this additive work before needing more? What is the cost of having the valve seals replaced in this motor?
Thanks for your time,
Justin
Hey there Justin,
Before I say anything, oil stop leak additives rarely really WORK, but they can help slow down the leaking. I use AT- 205 in my shop as well as a few other similar additives. You should not have a problem with long term effects of the product. You also should use thicker weight engine oil, like 20-50wt Castrol or just straight 40 wt.
Using thicker oil makes it harder for the oil to leak down past the damaged valve stem seals. Like cold honey trying to drip off a spoon. You don't want to get the oil so thick that the oil pump can not physically pump the oil through out the engine, but making it thicker will reduce oil consumption.
Replacing valve stem seals really means getting a valve job, which can start at $1400. To get to the valve stem seals you have to remove the cylinder head from the engine (basically taking the top half of the engine off) This is a time consuming repair and may or may not solve your current issue. I would think hard about putting that kind of money in this vehicle.
Here is a pretty good video showing the steps when doing a valve job (cylinder head already removed)
Changing oil weight, increase oil change intervals and using additives like AT205 and Engine Restore is a much more economical approach.
Please share this with your friends,
Austin C. Davis