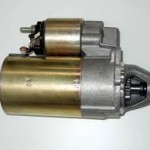 I went out to my car this morning and it would not start, all I heard was this fast sounding clicking noise coming from my ….starter motor??
What do I do now?
Johnathan
Hi there Johnathan,
I would suspect you have a bad battery or there is corrosion at the battery cable that is not allowing the full battery power to get to the starter motor.
That clicking noise is the stater motor trying to spin the engine over but does not have enough juice from the battery to do it.
Clean off and tighten the battery terminal connections and see if that helps. Use water and baking soda if you have a lot of corrosion.
Just take off the battery cables from the battery and soak them in a cup of soda and water mix. You can sprinkle the baking soda on the battery and anywhere you see corrosion then wash it off with plain water.
Also, if this battery is older than 3 years old I would just replace it as insurance to not get stranded.
Many times a car battery will just quite…no warning or anything that would indicate a problem. So, a new battery now can save you a ton of time and hassle later on.
Batteries NEVER go bad on nice sunny days when you are at home with jumper cables. 🙂
A super simple test you can do yourself:
With the engine OFF, turn on the headlights and watch them as you:
Turn the ignition key to the start position like you are trying to start the engine.
1. If the headlights are bright (means battery is fine) but then go very dim as you try to start the engine I would suspect a bad starter motor sucking too much battery juice.
2. If the headlights are bright, but go completely out when you try to start the engine then I would assume you have a bad battery or a bad battery cable connection.
3. If the headlights are bright and STAY bright, I would assume you have a security system problem or an ignition switch problem.
4. Obviously if the headlights are dim to begin with, you have a battery problem.
Hope this helps
Please share this with your friends,
Austin Davis