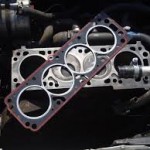 We went ahead and changed the head gasket with NEW heads not re-manufactured and new radiator.  Now no more overflow out of the expansion tank BUT I'm getting white smoke out of the exhaust.  I put my hand on it and it did leave water droplets.  So I'd say the damn new head gasket didn't seal.
So my only option left now is to try the K & W block sealer you speak off.  I don't want this crap clogging up my new radiator though.  When we torn down the engine it was full of the copper sealant I had used before that didn't work.
I have both the K & W Nanotechnology Head Gasket & Block Sealer (Green plastic bottle) and the Orange can Block Seal Head Gasket Repair.
Tell me what to do because I'm about to drive this car off a cliff.  It's just that I need to pay for a surgery I need that insurance won't cover and I can't afford to be buying a new car right now.
Sincere thanks
Danny

Well sounds like you have made some progress. I would drive the car awhile and see if you are loosing coolant or not. You might still have some old coolant in the exhaust system that needs to be burned off…and can take a few miles to do that.
If you can, get on the freeway at 60M PH for 20 minutes or so and lets see if the smoke goes away, if you loose any coolant in the radiator or if the engine overheats before we do anything else.
If you loose coolant, I would get a cooling system pressure test and make darn sure there are no external leaks you are missing.
Using the Sealer is a last resort BUT that stuff really really works well.
MY Directions for The Sealer
If you are reading this and want to try the sealer on your headgasket leak do it this way, which I have done 100's of times for customers in my shop.
1. Mix up the K&W Block Sealer (Nanotech version is fine as well as the older) in a bucket with plain tap water.
2. Drain out ALL coolant from your engine and radiator as best you can.
3. Add in the bucket mix to the radiator or overflow bottle and mix in plain tap water from a garden hose.
4. Drive the vehicle for a total of 500 miles
5. Drain out the sealer mix and refill with coolant and water, usually 50/50
That is all we do, and it works much better than the can instructions.
Please share this with your friends
Austin Davis