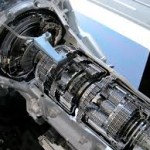 I have a Nissan Maxima that has over 300,000 miles on it.  (I put all of the miles on it)  I had my some work done my a mechanic that cost me $2300.00 to resurface heads and redo the seals for something on it.
One thing lead to another thing and the car was back and forth with him for about 3 months (hell) 30 days later put car in reverse and car would not go…put back in forward will not go…Cranks up, can put into any gear..but car will not do anything.
Got a different mechanic to look at it and he stated will need new transmission.  I am wondering does the transmission go out without warning?  Also, he stated I can get a used transmission but it would be better to rebuild this one.
I have been looking online and looking at transmissions that have low mileage are around $500-$800 (gottrasmissons.com) but to have one rebuilt is $2,800 (Napa auto parts)  Which is better, to buy a used one or from a parts place/dealership?
Thanks!
Do you want my HONEST opinion?  Can you handle it? 🙂
I see this happen allll the time.  People spend $2K on a new engine or some other big repair thinking all will be good for a while …but but but the repairs never stop.
The vehicle has 300K now, 150K more than it was designed to have.  EVERYTHING on this car is worn out in some respect.
So you spend $2k on a transmission, and next month the a/c compressor, radiator, water pump etc. etc. goes out.  You will get into such a hole that you will never recover 1/2 of your repairs when you finally give up and cash out.
You are not in a good spot now, so I would make darn sure about the transmission diagnosis before I did anything. Could it be low on transmission fluid due to a leak?  Possible. Yes a transmission can go without warning, or all the fluid can leak out without warning too. No fluid, no movey.
You can buy a used transmission from a local junkyard, or the place you found online. The local junk yard is closer with no shipping fee and usually you can buy a warranty with it as well. YOU ARE taking a big gamble that you are not buying another worn out transmission.
You can get your local mechanic to install it for you, probably $250-450 or so in labor, maybe make a cash deal on the side or something with the mechanic.  So you will probably be into a used transmission for $1k, give or take.
You can do that and take a gamble…then think REAL hard about selling quickly before anything else goes wrong.
OR you can cut the cord now and take that $1K and make a down payment on a 2 year old lease trade in Kia Rio (great car)
You can sell your car as is on craigslist…maybe $800???
So you might have $1800 to put down on a lease trade in on a KIA Rio with less than 25K miles and still under factory warranty.  This is what I would do if it were me. Just sayin.
Please share this with your friends
Austin Davis