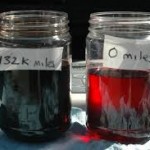 I have a Ford Taurus SE and have 98,000 miles. I just recently got a oil changed at Ford dealership. Their advice was to flush out the transmission fluid and power steering and brake fluids. I check all the fluid and it is dirty.
I know I need to change the brake fluid and power steering but really confused with a transmission fluid flush. I heard that it best not to flush out the transmission fluid if I haven't change any fluid during my regular maintenance of 98,000 miles because of the liquid sand like to able to fiction of the shift.
I really don't know if I should flush or not and don't want to ruin my transmission. I don't have any problem with the transmission. I don't understand what is slip means or slow to shift is. Does that means how the gear shift while driving?
How do I know if the shifting is normal? Transmission fluid should be pink and it doesn't look pink but dark color. If you were me what would you do?
One more thing. I check for a scheduled for timing belt and it not there. I don't know when to replace it. Any advice on that? Thank for your time reading this and your help.
LK
Houston, TX
Hello LK,
Thanks for your email. First off, your engine should be using a metal timing chain not a rubber timing belt that needs to be replaced periodically. So you don't have to do anything there.
On the fluid changes, it is a good idea to periodically change the under hood fluids such as the dealership suggests, but you are correct in thinking that changing the transmission fluid could do more harm than good at this mileage interval.
If you are certain that the fluid has been changed or the filter inside the transmission has been changed once before, then you are probably ok with changing either the filter and the fluid or flushing the fluid as they suggest.
Flushing the fluid instead of removing the transmission pan and changing the filter is easier and faster for the mechanic to perform, thus less chance of screwing something up, and flushing will remove more of the fluid from inside the transmission that you are unable to remove if you changed the filter the old fashioned way.
What should you do?

I think at this point in the game I would not do anything with the transmission. If there is damage inside the transmission due to lack of fluid changes then the damage is already done and adding new slick fluid will only make matters worse.
Ford Taurus transmissions are notoriously weak, and that gives me one more reason not to flush it at this time…chances are you will just cause trouble.
Slow to shift, shifts that take too long to shift to the next higher gear or slipping and not going anywhere are all very possible side effects of changing out old gritty fluid for new slick fluid.
How do you know the shifting is normal? Either get a transmission shop to take a test drive with you or test drive another Taurus similar to yours and compare the shifting is what I would recommend.
You can buy over the counter automatic transmission fluid additives that can improve shifting and help prevent slipping, you can try some of these and see if it helps…it probably wont hurt.
Please share this with your friends,
Austin Davis