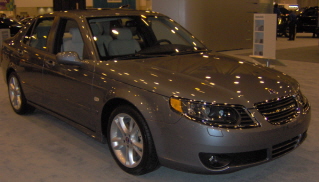 The Saab 9-5 Sedan is a beautiful car. I was very impressed with its slick styling and high tech design, especially the SportCombi model. Combine an awesome automobile with 30 MPG highway driving capability, and I'm ready to take this car for a spin.
I love the performance engineered into the Saab 9-5 Sedan. Standard on Saab automobiles is their traction control system (TCS). The TCS distributes the drive force to the wheel with the best grip, helping to reduce the risk of the tires slipping as you accelerate on slick surfaces. You can switch off the TCS if you don't want to use this feature.
Of course, the Saab 9-5 also comes with the anti-lock braking system we have all grown to expect, as well as Saab's electronic stability program (ESP). The ESP compares the movement of the car with the steering-wheel inputs. In the event of a skid or slide, the ESP system is designed to brake one or more of the wheels and, if necessary, reduce the engine power. The ESP also includes an anti-spin function. If desired, the ESP can be switched off.
As always, safety is paramount in the design of the Saab 9-5 Sedan. The active head restraints are designed to actually move upward and forward to catch your head as it begins to move backward during a rear-end collision. Saab was able to implement this feature using very few moving mechanical parts. Now that's good technology.
The front seats have been equipped with torso side air bags. They are integrated into the outer edge of the front seats' backrests and are in position no matter what position the seat is in. The air bags are designed to reduce the risk of upper-body injuries to front-seat passengers in the event of a side impact. There is also an automatic occupant sensor in the front passenger seat so that the air bags won't deploy unless needed.
The body structure of the car features high-tensile steel in the floor-and roof-panel area to provide additional side-impact protection.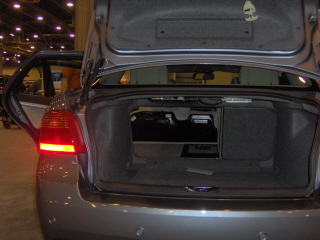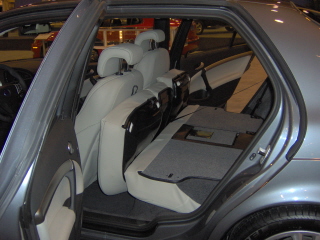 The baseline Saab 9-5 Sedan comes with the following standard features:
2.3T high output turbo-charged engine w/260 HP and 258 lb ft torque
dual-zone automatic climate control system
heated front and rear leather seats
active head restraints in front seats
power moonroof
100,000 mile GM warranty
Onstar availability
in-dish 6 disc CD changer
XM® satellite radio
complimentary scheduled maintenance
Harman/Kardon-tuned audio with 200W
The MSRP of the Saab 9-5 Sedan starts at $35,440.