The MGF, designed and produced by Rover, is a small mid-engine sports car, with a soft-top roof and plenty of boot space. Despite this, it is not renowned for its practicality, but if that is what you are looking for then you are missing the point of the MGF – it is intended to be fun to drive and something of a head turner.
The driving position is quite low to the ground, which means when the top is down you get a unique driving experience, it is ideal for the summer months. It grips the road well and has good balance when driving, which is just as well with a 0-60 time of just 8.5 seconds. It responds immediately to the slightest touch on either the accelerator or the break, roaring into life with a great burst of energy, yet slowing quickly without much effort.
However, the slightly cramped cabin (especially when the roof is up) and hard body styling makes for an uncomfortable time when taking in long journeys or negotiating bumpy roads and sharp corners. The plastic rear windscreen means is liable to cloud up, and can become creased and folded where the roof has been put up/down many times. Frequent problems have also been reported with head gaskets on the older models, and this is a common cause of breakdowns.
Second hand values have stayed quite strong, due to Rover restricting the supply, and cars can be picked up from around £3,500 for a 1995 model and upwards, and it proves relatively cheap to run. Fuel consumption is good, at around 38.4 mpg, and with an insurance group of 9/10, cover is cheap as well.
Production is due to begin once more in 2008, courtesy of Nanjing Automobile, at the old Longbridge plant in West Midlands, as well as in their yet to be completed Chinese factory. The MGF is expected to go back on sale in 2009.
All in all the MGF is a fun sports car, with great style and personality, suitably cosy and enjoyable during the winter, and a fast, thrilling ride in the summer sun.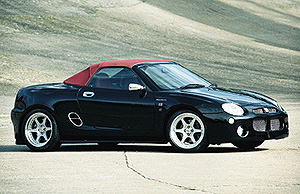 Picture credit http://www.21stcentury.co.uk/cars/rover_mgf_super_sports.asp
Mike Cain is a freelance webmaster writing, covering topics such as Automotive Articles. Please feel free to republish this article provided a working hyperlink remains to our site.
Article Source: http://EzineArticles.com/?expert=Mike_Cain