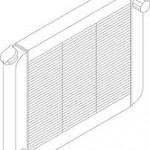 Hello I have a Mercury Topaz and its been leaking and thermostat has almost entered the red spot or hot spot, I did take it to a mechanic and he said it was the seals close to the water pump but it wasn't the water pump.
He said it would cost about $260 to replace and I don't have that kind of money at this time, I've tried , I know not wise , but old stop leak, I had for a year never opened, anyway, is there a temporary solution of a stop leak till my next payday, about a week Or the best brand of stop leak, thank you
Hello there
Those stop leak additives just don't work very well on seals and rubber parts. They do seem to work a little for METAL radiator leaks (most cars use a plastic and aluminum radiator), but I don't think you have an alternative…except stop often and refill with water so it does not over heat.
For a METAL radiator "pin hole" sized leak I would recommend BARS Leak Stop additive you can buy from any auto parts store.  You can buy an aftermarket radiator really cheap these days from your auto parts store, so honestly I would just replace the radiator and be done with it.
In your case, since the mechanic doesn't really sound all that confident as to where the coolant leak is coming from I would get a second opinion from another mechanic and have them do a cooling system pressure test first to help locate the source of the leak.
Many times you can have a small coolant leak at the top of the engine, like from a heater hose, that will slowly run down the sides, back and front of the engine and can be fool you into thinking the leak is coming from something lower on the engine (water pump) than it really is.
For a head gasket leak I would recommend the sealer I talked about in my video above
This is an interesting video about radiator stop leak additives as well, take a watch
I personally have not used the AlumAseal additive but wanted to give you more options. Check it out, let us know if any of these helped out.
Please share this with your friends,
Austin Davis