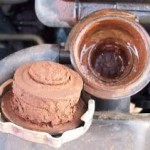 Hey Mr Mechanic guy, I have a quick question for you. I want to flush the radiator in my car (Honda), actually the mechanic I use wants to flush the radiator because he thinks its a good part of maintenance.  What say you?
Christine
Hi there Christine
So are you having a problem with overheating or is the coolant in the radiator dirty or rusty? Does the inside of your radiator or your radiator cap look like that of the picture above?
If you are NOT having an overheating problem but the coolant is dirty or rusty then yes, flushing that old coolant out and installing new coolant is a great idea.
If you ARE having an overheating problem, then "flushing" will not help and we need to find the source of the overheating.  Flushing is fine for maintenance, and will remove SOME of the upper rust and junk inside the radiator but will NOT remove any rust or mineral deposits that will be at the bottom of the radiator.
What I have seen a few times is that a shop uses a flushing machine and it actually causes a problem later on. Why?  The flushing loosened the rust and mineral deposits at the bottom of the radiator and circulated it throughout the engine and cooling system…which in turn goes back into  the radiator and stops it up even more.
The inside of the radiator has rows of aluminum tubes with small slits in them called "sipes". These sipes get clogged up with rust and mineral deposits over time, and flushing that out is not going to do much.  A new radiator is what is needed.
I would also replace the thermostat and upper and lower radiator hoses during the radiator replacement.
Hope this helps
Please share this with your friends,
Austin Davis
Reader comment
We had my husband's radiator flushed at a chain place and they destroyed the radiator by actually somehow stirring up all the gunk and getting it caught in the radiator instead! After overheating on I-95 TWICE and bringing it back to the chain place 3 times, Honda figured out that it needed a new radiator.
They said that they are starting to see that except for draining and replacing the cooling fluid, doing this "flush" of the radiators is causing problems rather than avoiding them.
I wish I had read your article before we went through all that.
Thanks
Christine