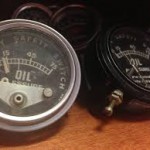 I had my engine oil changed 2,000 miles ago and I noticed the oil pressure gauge is all the way up at 80 PSI Suggestions?
Hey there
Check the oil level first and correct the level if it is not in the normal range on the dipstick. If the oil level is where it should be you need to check the oil pressure with a manually operated pressure gauge. You can rent this gauge at your local auto supply store or get your mechanic to do it for you. This gauge will screw into the hole on the engine that the oil pressure sending unit it currently screwed into.
What you want to know is how much oil pressure is there AT the engine compared to what the oil pressure gauge in the dash is telling you. If the manual pressure gauge says the oil pressure is normal, then you probably have a faulty oil pressure sending unit or something is not right with your dash gauge. If the pressure is too high with the manual gauge, then you have some sort of internal engine problem or an oil pump problem that should be looked into.
If you don't want to go through the trouble of gauge testing, you can just buy a new oil pressure sending unit from the auto supply store and replace yours and see if that changes the pressure reading. This part is usually cheap and easy to replace yourself. I would say 75% of the time this kind of problem happens it is due to a faulty oil sending unit.
Please share this with your friends,
Austin Davis