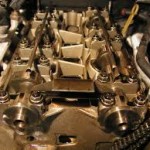 I don't need any repair –  yet. My question is when.  I have a 1995 Nissan Altima with a metal timing chain on the 2.4L 4-cyl engine.  That engine is great but the upper chain guides get misaligned and cause noise.
Nissan eliminated the upper guides in later models, so the usual solution is to remove the upper guides.  That's a real labor expense, so my question is, what if I just live with the noise?  I'm retired, drive 3k miles a year and the car has 50k miles on it. How much longer can I live dangerously?
Sincerely,
Larry
Larry,
If you are certain that the noise is coming from the timing chain guides….I would replace them. Worst thing that can happen is the chain jumps and causes internal engine damage.   I have not seen of these cars do that but I know they had a serious oil leak from the timing chain seals years ago and it was a big job to replace them. Overhauling this engine because of a timing chain failure would be more money than the car is worth. 🙁
This is a sound engine otherwise and will last for years if properly maintained so if you want to keep the vehicle I would recommend the repair now.
Austin Davis