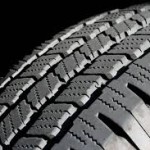 Before I had my tires rotated, my car did not pull to one side or the other. But right after my last tire rotation it began to pull to the right? Is this coincidental? Do I have a bad tire, or an alignment problem that I need to have repaired?
Andrea
Hello there Andrea
Radial tires can cause a "Radial pull" which is what you have now, that can cause a front end of the vehicle to pull to one side. This is because of a defect in the tire (although not a safety defect) or because the tires have not been rotated often enough and the belts inside the tire are worn more on one side than the other….causing the pull.
The radial pull can be caused from an internal defect inside the tire, or can be caused by driver damage, like from hitting a curb or large pot hole that caused internal radiator tread damage.
Usually, you can just move the "trouble" tire to the rear or switch it to the other side of the vehicle where the pull is not as obvious.
I have seen MANY brand new tires cause a tire pull. The solution: usually switching the two front tires, left to right will cure the problem. I would not be concerned as long as the tire tread is in good shape. Might also want to check the tire pressures as well….under inflation can cause a pull as well as uneven tire wear.
Have you watched my tire wear video? You might not need this information today, but you will one day.
Please share this with your friends,
Austin C. Davis