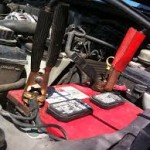 I have a Dodge Neon, that I rarely drive ( a few times a week ), there is only 50,000 miles on it.
I drove it the other day and it seemed to be working fine, I went to a friends house and it ran fine, but when it was time to leave the car did not want to start. So we boosted the engine and it started fine.
As I was driving home the check engine light came on as well as the battery light. I got home turned the car off and then decided to try to start the car again…nothing. It was dead. I hear a faint clicking sound coming from the engine and that's about it.
Not even my power locks work now. I tried jump starting the battery again the next day and it started, but as soon as you turn the car off, it will not start again. Now only the check engine light comes on…not the battery light. Is it my battery/alternator/starter???
Please tell me what this might be, I have no clue when it comes to cars, and I don't want the run around from the dealerships or to have to pay an arm and a leg.
Thank you.
Amber
Hi Amber,
It sounds like you might have a bad alternator, which is not recharging the battery with electricity. ALTHOUGH, before you run out and buy an alternator I would HIGHLY suggest you have your battery "load tested", and this should be done with the batter IN the car.
So, find a local electrical shop, one that repairs alternators and starters and ask them if they also do the installation and the diagnosis. Jump start your car again and take it to them for an electrical test.
A bad battery or a battery with a "dead cell" can also cause strange electrical issues like you are having. I would suspect you probably DO have a bad battery, but that you also have an alternator issue as well.
If the battery fails the "load test" I would replace it first then test the rest of the vehicle. If you just want to replace the battery yourself… (which will save some money) and then drive it around for awhile and see if the problem is still there…that would be a good option as well. If you still have problems after you install the battery, then you should visit the electrical shop for further repairs.
In either case, this is a job that I would not visit the dealership for…it's an easy repair, and you can save a LOT of money utilizing your local alternator/starter repair shop.
Please share this with your friends,
Austin C. Davis