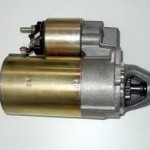 I have a Toyota Camry v6 with 180 thousand miles on it.  Besides getting the oil changed I have not done much else to it.  For the last several months it has trouble starting after it has been sitting.
The engine doesn't roll over, actually nothing happens at all.  I have been told that the starter solenoid is going bad.  I don't have the funds right now to take the care to the shop.  I have been quoted 500 to 1200 for this to be fixed.
With directions, can this be changed by an inexperienced person (me) and my husband who could watch and help but has become disabled and can not do much manual work anymore.  Or is this a job that only an experienced mechanic can do.
Also is it possible to just change the solenoid or does the entire starter have to be redone.  Thank you for your time.  I can't afford a new car but since my husband has become disabled I have to have reliable transportation to get him to hospital at moments notice and we have a baby.
Have a Blessed Day!
Emily
Hi Emily
I would find another shop and get a second opinion, I think the price they have quoted you for a starter solenoid is outrageous and they are probably incorrect in their diagnosis too.
You could have a battery problem, like a loose or dirty battery terminal connection or possibly a starter motor problem…I am assuming they are talking about replacing the starter motor solenoid, which is part of the starter motor and will be replaced when the starter is replaced.
I see TONS of customer vehicles get towed into my shop every year because of a loose or corroded battery terminal connection. Make sure those terminals are clean and tight, and cannot be moved by your bare hands.
I have another article about how you can test for a bad battery or alternator type of problem here.
Here is a nice video talking about your issue as well
I would guess at a starter motor replacement quote to be about $450 parts and labor.  This is something a mechanic should do for you.  You can also have your starter rebuilt which will save you some extra money if you have a starter and alternator shop in your area.
Please share this with your friends,
Austin Davis