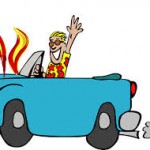 The overheating in my Dodge Intrepid 3.2 has stumped two mechanics. First let me go through the list of replacements/procedures that I have had:
Thermostat
Reservoir Tank
Flushed Radiator
Replaced Radiator
Carbon Testing
Replaced Intake Manifold (bleeder valve seat broke and began to spew anti freeze)
New Water Pump and Timing Belt
Bled, Bled, Bled and Bled…
When the above mechanic came to the conclusion that it could only be a cracked head or head gasket, I decided to take it to a new mechanic for pressure testing before we jumped to that conclusion. (I changed mechanics because the first one had my car for 3 months with no results and never once did a pressure test)
First thing my new mechanic did was a pressure test…here are the results:
Held 16 psi for a long while and then dropped to 13 psi, no outside leaks visible.
My new mechanic just received my car to day and wants to do a through look about for a small antifreeze leak that is putting air in the system. Every time he has bled the system, he find some air in it. He also noticed that my fans kicked on after the car temperature read 221. It kicked on high speed at 231. He said that the engine block did not feel that hot. There was no bubbling of the antifreeze in the reservoir tank.
He doesn't want to jump to the conclusion that it is a head or head gasket just yet. But he did mention that it might be the heat sensor in the intake manifold. The intake manifold that I purchased for the replacement was used and did not have a heat sensor in it. So the previous mechanic just transferred it from the old to the used.
I am curious what you think. Could it be as simple as the system needing to be bled more and the heat sensor replaced or do you think it could be the heads?
Thank you!!
Hi there,
welllllllllll, you have replaced just about all cooling system components already, so we need to start ruling out things.
When does the engine overheat, while driving or sitting in traffic?
Watch my video and see if you can narrow things down
Are we sure the engine is actually overheating, and not a dash gauge problem due to a temperature sending unit?
Are we absolutely sure there are no exterior coolant leaks?
If you can rule those items out, then you might want to try this over the counter head gasket sealer and see if that helps.
Watch my video about the K&W head gasket sealer product I use in my shop
Keep me posted as to how things work out
Please share this with your friends
Austin Davis