Looking at buying a new Mazda Miata? Take a few minutes to find out what's new in the Miata and the Miata part and Miata accessory choices for your car.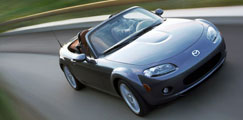 What's so great about the new Miata? They've been making them for years and they are virtually unchanged. Sure, the Miata is a classic sports car with rear wheel drive and a perfect 50:50 weight distribution. But Mazda introduced a new version of the Miata called the Mazdaspeed Miata. It has significantly more features than the standard Miata and has some great Miata accessory options.
You can get a black cloth top and black leather seats with cool red stitching. The car also has Miata accessory Mazdaspeed spoilers and badges. The Miata still gets 20 mpg in the city and 26 mpg on the highway. It has all the modern Miata part features, too, like a 225 watt stereo with a six disc in dash CD changer, remote keyless entry, power windows, and subtle tuner touches like a silver painted tower brace and red painted stabilizer bars. The calipers have also been painted silver. The car weighs only 2529 lbs which always helps performance.
The 1.8 liter engine has been upgraded with a turbocharged and intercooled engine. This 8.5 psi turbo boost gives the Miata 178 hp compared to the base 142 hp. They coupled this power with a short throw six speed manual transmission and a new heavy-duty clutch powering a torque sensing limited slip differential.
In the past, Mazda voluntarily recalled all 2001 and 2002 Miata model vehicles and replaced the Central Processing Unit (CPU) with one that incorporated new cold start calibrations. The new calibrations affected air-fuel ratio under cold conditions, idle speed, ignition timing, and valve overlap. The average reduction in NMOG emissions were 26%. Mazda says the changes in the Miata part caused no adverse effect on vehicle performance and fuel economy. The Miata part (CPUs) removed from the vehicles were returned to Mazda and re-calibrated, to be later installed on other vehicles as part of the fix.
The suspension has been tuned further with stiffer springs and returned gas-filled Bilstein shocks. With all of these improvements, it was also necessary to make the sway bars larger, both in front and in rear. Add some ABS brakes and 17" wheels and standard EBD – Electronic Brakeforce Distribution – and you have a handling package to compliment the new power plant.
0-60 in a mere 6.7 seconds. The standard Miata can make it to 60 in 8.1 seconds. But get this – the Mazdaspeed Miata is only about $900 more than a similarly equipped Miata LS with the six speed Miata part. For the turbo, intercooler, and suspension upgrades, $900 is a small price to pay for so much more performance. Finally, Mazda has given us the Miata we've all been waiting for.
miata part, miata accessory, mazda miata part
Stuart Simpson
Miata fan with pictures of the new Mazdaspeed Miata in Lava Orange Mica. http://www.miata-links.com
Article Source: http://EzineArticles.com/?expert=Stuart_Simpson