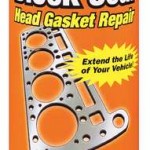 Hi Austin. I read a couple of your posts on this subject. I have used K&W Block Seal without your "leave it in for 500 miles" trick.  I plan to repeat and leave
it in, but 2 things are puzzling me.
1. Does the thermostat really need to be removed? And if so do you leave it
out for the 500 miles?
2. Does the antifreeze need to be completely removed (ie. repeated
flushings)? or will the product tolerate very low concentrations?
Thanks for your help…Bert
Hey there Bert
I do not suggest taking thermostat out, I think another visitor posted a comment about how he did it that way. The product will NOT work properly with any antifreeze in system, although I usually just remove lower radiator hose and flush out radiator as best I can.
I might also flush out heater core depending if there really was a good mix of coolant to water to begin with.
Here is my instructional video again.
A few common questions I get from readers:
1. Do I need to remove the spark plugs? No, I have never done that in my shop
2. Do I need to remove the thermostat? No, we do not do that in my shop.
3. Do I need to use a special flush chemical first? No, unless your radiator is restricted or full or rust, then I would replace the radiator…which was probably the cause of the overheating to begin with.
4. Do I have to use the product more than once? No, it should be a permanent repair if it takes hold and finds the leak.
5. Can I use this sealer for a radiator leak? No, I have not found it or anything effective on radiator leaks.
Please share this with your friends,
Austin Davis