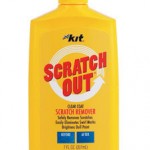 I get a ton of email questions each day from my readers, and many of them have to do with exterior car like car wax and polish products. I am always testing new (and older) products to see what is working best today and if they are a good suggestion for my readers.
This time I tested a car scratch remover product by KIT, called Scratch Out and I really liked the results on my wife's plastic bumper so I made a video to share with you. It was very easy to use and polished to a clear shine with no need to re-wax or wash afterwards like some rubbing compounds require.
Below is my Kit Scratch Out Review video and demonstration, please watch and share.
What I really like about this product is it was EASY to use. I am lazy, hate to fish and can't stand to play golf…who has time for those "sports"?
The product went on quickly, came off with very little effort (some waxes you really have to push hard to get them off) and looks pretty darn good.
Now, as a follow up to this video, I noticed that I had to re-apply the product after about 3-4 months. OK, I guess that is not too bad, so it was not permanent. Still, I recommend the product, and I hope you try it on your paint scratches and post your comments below.
If you like this video, share and like it with your friend and as a thank you please download my popular ebook What Your Mechanic Doesn't Want You To Know for free from this link a gift to you just for coming.
Please share this with your friends,
Austin Davis