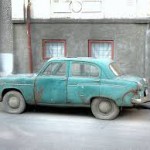 It's almost 2014 and many people are considering buying a new or newer car before the end of the calendar year, but is it a good decision?
Heck ya I say, and I say that because I just bought a 2 newer vehicles for my family.  I like to buy 2 year old vehicles or lease trade in vehicles when I can because the previous owner took most of the depreciation hit for me.
I make sure that the 2014 model vehicle I am thinking about has not changed drastically on the outside so I am not buying that "old" model.  I don't want to be that guy who buys a $600 old style TV set when 6 months later Walmart is selling flat screens for about the same price…sigh.
PROS of buying a 2 year old vehicle over brand new:
1. Much better pricing since 20% or so of depreciation has been removed from the sales price.
2. Usually a 2 year old vehicle with less than 20,000 is still under factory warranty
3. During those 2 years the manufacturer has had a chance to work out any recalls or defects
4. It usually still looks and smells like brand new inside and out
CONS of buying a 2 year old vehicle over brand new
1. It ain't brand new, so if you are slightly snobbish you bought a "used car" and could indicate to your friends and clients you are not as high fluting as you think you are.
2. You might only have a few months or miles left with the factory warranty, then you are on your own.
3. You MIGHT end up buying a lemon or problem vehicle the other owner wanted to get away from
4. You have to deal with a "used car salesman" and well, you know how much fun that is right?
5. The manufacturer could drastically change the body style of the new model release and you will instantly be driving "that old model" and will kick yourself every time you see the new model style.
Where to find the best deals on a 2 year old vehicle?
1. Craigslist.org – I like to start here and see what the independent sellers (individuals) are asking for their vehicle and the condition it is in.
2. Carmax – very easy to check out many manufacturers at one location. You might decided on something totally different than what you set out to buy.  Ask my wife about that.
3. Ebay.com – yep good ole ebay. I bought a truck off ebay a few years back and got a heck of a good deal.  Luckily it was local to my area so I got to go and touch and drive it first.  I like to comparison shop on ebay just like craigslist to see what the going prices are.
Where to sell your current vehicle?
1. You can post an ad on Craigslist.org but you have to deal with prospective buyers, take test drives, answer emails and phone calls and worry about a financial transaction with a stranger.
2. You can sell it to Carmax, which is super easy to do. They will give you a written quote usually good for 7 days and will process all the paper work for you as well.  If you end up buying the newer vehicle from Carmax as well they will subtract the trade in value from the new sales price which will save you money on sales taxes.
3. You can trade it in at a dealership either for a brand new car or for that 2 year old lease trade in they might have on the lot.  I don't like this option as much because new car dealers usually give you much less for your old car than #1 and #2 above.
Sometimes new car dealers like to play games and say they will give you this huge trade in price for your old car, but in reality they are not discounting the price of the new car like they should.
I bought my "new" 2 year old truck and sold both of my old vehicles to a company here in Houston called Texas Direct Auto. Has anyone else dealt with them?
So go out and spur the economy why don't ya!
Please share this with your friends,
Austin Davis