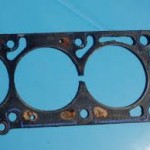 Hi Austin,
My son has a Honda Accord Coupe which had/has a leaking water pump that resulted in a definite blown head gasket. looked at your site and tried the K&W. Did everything according to the directions and the white smoke has dramatically dissipated but still a little bit of smoke and some small drops of water out of the tailpipe.
Also, it kept it's temp but then would spike so we let it cool down, then added more water. Wanted to do the 500 miles but afraid of overheating so I drained the K&W and allowed it to dry for 2 days.
Today's the day. I'm going to flush the K&W and fill her up with water at first to see if the stuff worked and then go for it. The question I have is this, if there's still white smoke coming out and drips out of the tailpipe, would you think it's best to retry the K&W?
You're quick response is much appreciated and your site is fantastic pal.
Thanks!
Thanks for your email.
My concern here is you said the temperature spiked and you then had to add water.  Why did this happen?  Do you still have a coolant leak somewhere, internal or external like a hose?
I would get a cooling system pressure test FIRST, rule out a leak. Then I would look at the temperature spike issue next. Do you have a restriction in the radiator not allowing the coolant to circulate through the engine? A 20 year old radiator….I would expect it to be restricted at the bottom and  need to be replaced.
Does the electric cooling fan come on and off when at idle as the engine warms up? It should, so make sure it is.
IF you still have some white smoke, which could be just normal condensation left inside exhaust system that needs to be blown out. You can try the sealer again and drive 500 miles like I suggest.
It does work, so don't give up hope but I have a feeling you have other issues that need to be fixed first.
Keep me posted, thanks for your comment.
Repeating MY recommendations for using K&W Block Sealer
1. Drain out all coolant/antifreeze from the system you can
2. Fill a bucket with tap water and 1 can of K&W Block Sealer
3. Stir bucket and add to radiator slowly, then top off with water
4. Then drive the car as you normally would a total of 500 miles, doesn't have to be all at once.
5. Drain out the sealer and refill the system with 50/50 coolant/water mix
I DO NOT remove the thermostat, I DO NOT remove the spark plugs as the can suggests. I have done this many many times with great results. If you want to follow their instruction, great, it won't hurt it will just involve more work on your part…but might be worth it if you have a large leak.
WARNING, The only real draw back to following MY instructions is without any antifreeze/coolant in the system the engine is more suspect to overheating or damage from freezing. Just use good judgement on freezing days and keep your eye on the temperature gauge on hot days.
Please share this with your friends,
Austin Davis