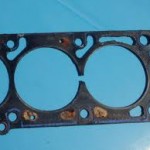 Hey Austin, you have been a huge help to me in the past on car repair stuff and I wanted to run this idea by you. My mechanic is convinced I have a blown head gasket in my Jeep. He wants to pull the cylinder head off and replace the gasket, but for $1200 which I can not afford.
Have you had any experience with Blue Devil sealant?  I am thinking about trying it to solve my head gasket leak but want your input first.
Gerry W.
Hey Gerry,
If your mechanic has done a cooling system pressure test FIRST and has ruled out any possible external coolant leaks like a water pump or radiator hose and is still convinced there is an internal head gasket leak…then yes, lets try a sealer.
To be honest I personally have NOT used Blue Devil, so I can't comment on it working or not.
I did find a good Youtube video where people are having success using the product on their internal head gasket problem, so if you wanted to try it I don't see why not.
What we have used in my shop personally for 30? years is K&W Engine Block Sealer, and it works great most of the time and is super easy to use if you use it MY way not as per the instructions on the can.
Now I should say that removing the cylinder head, resurfacing the head, doing a valve job while you have the head off and then replace the gasket IS the proper way to do the repair, just costly. But, I should also say, the mechanic is not going to make any money using a $20 sealer additive either so they will always recommend the "proper way". 🙂
To make things easier for you, I made a video about head gasket leaks and how to use the sealer I mentioned. Take a quick watch and try it yourself.
Please share this with your friends,
Austin Davis