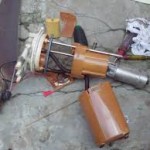 I have a Chevy S10 Blazer and after a trip I arrived back home and casually turned it off. When I tried to turn it back on, it turned but there was no response. I then went to a next door neighbor who is a mechanic and he said the biggest problem would be the fuel pump.
He hit it once with a hammer and on cranking the car it started. So we deemed the problem to be the fuel pump. I replaced the fuel pump myself and it now turns on when the key is on the ON position and the fuel lines are pumping fuel. (I checked it on the engine.) But after I replaced the fuel pump and checked that it was pumping fuel I tried to start the car and it gave the same response. So it turns over but just won't start.
I have since checked the spark plugs and they seemed to produce spark. (I checked them by opening the wire connecting to the spark plug sticking a screwdriver inside and touching the metal part to a "ground" like the top of the engine, and it produced sparks) So what could be the problem now? What could cause the engine to not start after the fuel pump has been replaced and the spark plugs checked?
-Please respond,
Abel
Howdy there Abel,
I am not sure I understand your email, BUT the first thing I would do is check the fuel pump PRESSURE. The pump might be pumping enough fuel into the lines that you can see it, but if it is not pumping hard enough the engine won't start.
There is a place to check fuel pressure on the back of the engine with a manual screw on gauge. Hitting the tank with a hammer is a great and easy test to kick start a weak pump, but not a very accurate test. Could it have been coincidental? Maybe just the time it took to get the neighbor solved the problem and when he hit the tank you guys just assumed it was the pump?
Video showing you how to test the fuel pump pressure with a manual gauge
Checking spark the way you did is ok, but it does not tell you if the spark was strong enough to ignite the fuel, it just tells you there was some kind of spark.
I would check fuel pump pressures and recheck your installation. If you used a cheap aftermarket splice in pump, I would be suspicious. Can you hear the pump prime itself when you turn the key to the on position? Are you sure the pump was installed correctly?
I would also check the spark from the ignition coil, and test the ignition module.
Please share this with your friends,
Austin Davis