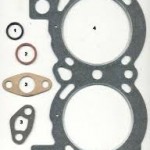 Hi Austin, love your site and all the time and effort you have put into helping people with their car problems, like me 🙁  My question is this.  I have a 2005 Ford F150 pick up that overheated and I continued to drive it until it basically quit running.
Now my mechanic says I have blown the head gasket and will have to have it replaced. I had no idea what a head gasket was, and totally shocked when he told me it would be about $1800  I almost fainted. What in the world would make a silly little gasket so darn expensive to replace?  What should a head gasket repair cost to replace?
Thanks,
Eric
Hey there Eric,
Man I am with ya on this one, its a pretty inexpensive part itself but the labor….ohhhh the labor to get to it.  Its basically in the middle of the engine on both sides under each cylinder head, if you have a V6 or V8 you have 2 cylinder heads thus two head gaskets to replace.  The gasket is pretty darn tough, its got a small ring of metal which surrounds the whole in which the piston travels.
So about how much should a head gasket repair cost you actually?  Well it pretty much depends on the maintenance of the engine parts prior to the overheating and the damage.
Example, since I am going to have to tear down the top half of your engine I am basically going to have a ton of parts in my hand that I had to remove to get to the head gasket. Water pump, belts, hoses, spark plugs, thermostat, spark plug wires etc. etc. so NOW is the time to replace those items if they need to be replaced.
You will also need new coolant and an oil change after the repair is made. So you can see there is going to be, or could be lots of incidental parts that I will be asking you to replace, which will inflate the bill even more.
What you really need to do is find out what caused the engine to overheat in the first place so it does not happen again. Is the radiator restricted and needs to be replaced, was the water pump leaking or a radiator hose leaking? If you don't fix the original cause you will be doing this repair again!
A cooling system pressure test should be done FIRST to determine that you really do have an internal coolant/antifreeze leak inside the engine. This simple and inexpensive test will pump air into the radiator and make it easier to find a coolant leak.
I would bet many people replace their head gaskets for no good reason at all because the mechanic failed to do this test and jumped to conclusions.
The damaged head gaskets are the SYMPTOM of a severe overheating problem, NOT the cause!! Just like when you get a headache, you are not deficient in aspirin, there is another issue in your body causing the headache.
Once you are sure about the diagnosis of head gasket failure, you should have both cylinder heads sent off to a machine shop where they can be inspected for cracks or damage, and if they are not damaged they will need to be resurfaced.
I would also spend a few bucks more with the machine shop and have them do a complete valve job on the cylinder heads while they have them. You will get a much better job in the long run for $100 or so more now.  Trust me, money well spent.
So your $1800 quote could be in line with what it really takes to do the job correctly, I would need to see the itemized quote to make sure.
Now, with this being said the real question is do you really need to do this or is there an alternative to this costly repair? Watch my video above and see what I use in my shop and recommend using.