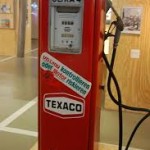 How do I know if I have a fuel pump problem with my car. I can crank the engine over but the car won't start.  I think I can hear the fuel pump making noise inside the tank.  Not sure. What are the symptoms of a bad fuel pump?
Bill
Hi there Bill,
Well if you can hear the fuel pump coming on (makes a whining noise inside the fuel tank for 2-3 seconds when you turn the key to the ON position) then it could be fine or it could be coming on but not have enough strength to supply the engine with the proper fuel PRESSURE, which is most important.
Usually a fuel pump fails once it has been sitting a little while and you go back out and try to start the engine again. It is a temperature issue, pump getting hot, then cold etc. that cause it to not work properly.
What you can try is this. Take a small block of wood or your fist if you feel comfortable with that and rap on the sides and bottom of the fuel tank AS someone is cranking the engine over.
If the car starts, you have a bad fuel pump and it needs to be replaced. If it does not start, you could still have a bad pump, or you have another issue like lack of spark to the spark plugs.
If you have a pickup truck, it is sometimes easier to remove the 4 bolts holding the bed down and move the bed back just enough to gain access to the top of the fuel tank. You will need a few friends, but its faster, easier and safer than dropping the fuel tank to get to the pump.
And Murphy's law is true, you will almost always have a full tank of fuel to deal with, which is heavy and dangerous to work around.
Reader Follow Up
Thanks a million for your suggestion on hitting the gas tank to get my 96 stratus to run.  I had not started the car for a month or so, so while it turned over fine, it wouldn't catch.
A couple of hits w/ a broom on the gas tank and it started like usual.  BTW, it's got a fuel pump w/ maybe 20k on it.  Think I"ll put some gas cleaner in the tank in case the fuel pump is somehow stuck due to non use
Bill