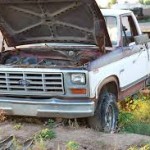 When I first got my truck, an automatic 2004 Ford F150, it had 40k miles. It now has 93k. At first the truck ran great with zero problems, and now some are starting to pop up. I've had an excellent mechanic change the spark plugs at 85k miles and I change the oil at every 2,500 miles.
The transmission has been acting weird for about 6 months now and hasn't gotten any worse. When I stop completely and go to accelerate, I can feel a slight shake, like something is slipping.
When I slow down to make a turn or pull into my neighborhood, the RPMS drop and take longer than normal to pick up after downshifting I changed the transmission filter and noticed the dipstick plug was still in the pan.
I was surprised to see it and had no idea what it was at the time. Knowing that it had the factory filter at 93k miles, I would like to know what these problems are and how I could possibly solve them.
P.S. I am taking my truck to a dealership to have them reset the transmission memory to learn my driving style.
thank you,
Montie
Hi there Montie
Let me know if the reset helps. I think you might have a worn valve body issue inside the transmission which it going to require removal of the transmission and an overhaul. Sorry to be the barer of bad news. 🙁
Reader Follow Up
Thanks Austin. Can you give me an estimation on how much you would charge to fix this? I'd like to know a price range so I won't get scammed!!!
Hello again Montie
You would basically be looking at an overhaul…I'm guessing from what you told me. I would estimate about $2200 – $2600?
You can buy a Ford rebuilt transmission from the dealership parts department and have your local mechanic install it…or so it yourself it even comes pre-filled with fluid. Just bolt it on, put your old one in the box and send it back to the dealership to get your core deposit back. We can install one of these in just a few hours, and have not had an issue with them.
You then get a Ford national warranty and it's installed in hours not days to overhaul. Worth calling the parts department and comparing prices with a transmission shop
Reader Follow Up
I talked to an assistant at the dealership and he thought it was the torque converter. I doubt its that so I will take it to another shop my friends uncle owns to see what he thinks. The reset did zero good.
Hi Montie, Sorry to hear the transmission reset did not help the problem.
Well…the real bad news is there is basically nothing external to do, the transmission pan and the transmission really have to be removed to see what the problem is….so once that happens be prepared for a complete overhaul.
Replacing just one component is a waste of time and money. Personally I would buy the Ford rebuilt unit instead of a transmission shop overhaul, I have been burned too many times.
I would definitely rule out any engine problems like an engine miss that can feel like transmission problems before I remove this transmission. But at your mileage I would not be surprised to see a worn out transmission that needs to be rebuilt or replaced.
Please share this with your friends
Austin Davis