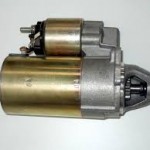 I have a Ford Explorer 4.0L Auto Trans with six cylinders. It will not start. Battery power is good.
I hear a click when I turn the key. No attempt to turn over, just a click.
Do you have any ideas?
Morgan
Hi there Morgan,
First thing, turn on the headlights and make sure they are good and bright. With the headlights on, try to start the engine, and watch the headlights or get someone to watch the headlights as you try and start the engine.
If the headlights go out, you probably have a bad battery or a bad connection at the battery. The cables on the battery need to be very tight and very clean. Make sure you can not move the cables with your bare hands, use a wrench and tighten them if you can.
If they have any corrosion on them at all, remove the cables from the battery and soak them in a baking soda and water mixture in a plastic cup, or use some sandpaper or a wire brush to remove the corrosion then reinstall.
If the headlights dim down, but do not go completely out when you turn the key, you probably have a bad starter motor.
You can sometime LIGHTLY tap on the starter under the passenger side of the vehicle with a block of wood AS someone holds the ignition key in the start position. This can jump start a weak starter motor. If this helps, you need to replace the starter motor or you will be in the same no start situation again real soon.
Make sure the emergency brake is ON and the vehicle is in PARK!
If the headlights stay bright, and does not change as you turn the key, you might have a problem with the ignition switch, neutral safety switch or an alarm or wiring issue. Not dimming down or going out tells me there is a lost signal to the battery, not sucking battery power and giving it to the starter motor.
You might want to try to start the engine in neutral just to see if that have any bearing on it.
Please share this with your friends,
Austin Davis