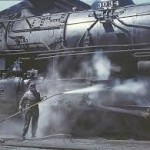 I get a ton of emails every day related to car repair problems. When I get a few of the same questions in a row I make a Youtube video about that subject.
The topic is engine steam cleaning….argggggg, please don't do that to your engine.
Your engine does not run better or last longer if you steam clean it.
Your engine will not run smoother, cooler or more fuel efficient.
You COULD actually (change that to probably) do more harm that good.
And, you COULD (change that to actually) cause a potential buyer to shy way from the sale.
So, is there an alternative? Yes, thanks for asking…watch my video below and I will offer a much better suggestion to engine steam cleaning.
Now before you say…."well that is really not CLEANING the whole engine" you are correct. My method is cleaning off oil spill and fluid spills from hard metal engine parts. Any hard plastics you can clean with a damp cloth and some 409 Cleaner or equivalent.
The main point I am trying to make in the video below, DON'T USE WATER under pressure on your engine you will cause more problems than you wish for.
Thank you, share on Facebook please and or comment below.