What's new for the 2006 Corvette Z06?
First, the 2006 Chevrolet Corvette has been redesigned for the 2006-year model. It has enhanced features, but in this article I want to tell you specifically about the Z06 features to this model.
The Z06 is, of course, the fastest vette ever built. It will have a 500 horsepower 427 cubic inch engine with lightweight components. What does this mean in a 3130-pound car? It means superior performance beyond all other Corvettes. Estimated 0-60 in less than 4 seconds along with a sub 12-second quarter mile. Top speed is reported to be more than 190 MPH (on a closed race track of course).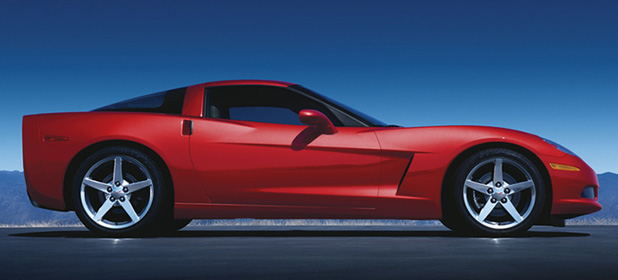 What makes this new Corvette so much better? Several components:
1. 500-hp/475 lb.-ft torque – wow, now that is power!
2. 7000 RPM redline
3. 11.0:1 Compression
4. Titanium connecting rods
5. Titanium intake valves and pushrods
6. Hand built engine – can't get that with your Mustang!
7. Dry sump lubrication – Like its C6.R sibling, the Corvette Z06 is equipped with a dry-sump oil distribution system, which maintains the oil reservoir outside the engine as opposed to inside the crankcase. A dry-sump system eliminates the oil starvation suffered by conventional engines when subjected to extreme acceleration, braking, or high-g cornering.
8. Aluminum body structure
9. Carbon fiber front fenders
10. Magnesium front cradle
11. Fixed roof design for rigidity
12. Larger grill and cold air intake scoop
13. Wide rear fenders and a rear spoiler incorporated into the tail of the car
14. Larger cross-drilled front and rear disc brakes
15. Larger wheels and tires
16. 3" exhaust
17. Light weight seats with fixed side bolsters
Options:
1. Bose audio with an in dash six CD changer
2. Polished wheels
3. Telescoping steering wheel
4. Heated seats
5. Navigation system
6. Homelink
7. XM Satellite Radio – so you don't have to listen to Howard Stern
MSRP
Starting price is about $65,000 which if you have to ask how much one of these new beauties is….you probably can't afford it.
All in all, this is going to be one of the best Corvettes Chevrolet has ever offered. I can't wait to see one.

Stuart Simpson collects pictures of the new C6 corvette. If you have any you'd like posted on the web site, contact me. http://www.corvette-links.com
Article Source: http://EzineArticles.com/?expert=Stuart_Simpson