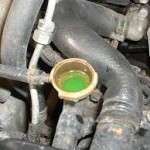 I have a serious coolant leak on my Pontiac Grand Am SE 2.4L. I can look under the car when it's not running and see steady dripping of coolant about 18 inches from the front passenger side tire.
I took my daughter to school this morning (15-20 min trip total), before I left I filled the overflow tank up with coolant, by the time I got back home my low coolant light was on. What would you say is the issue? What would you say, most likely, is leaking? I hope it's not something that is gonna cost me "an arm and a leg" to fix.
Thanks, Tina
Hi there Tina,
I would open the hood and look around that area and see if you can visually see where the coolant is coming from…maybe there is a small rubber heater hose that is going inside the dash of the vehicle on the passenger side to the heater core inside the dash that is leaking? In the picture below you should see two rubber hoses attached to those two metal pipes that will be sticking out under the hood leading more towards the passenger side of the car.
You might also want to run your hands on the carpet, and under the carpet on the inside of the vehicle again on the passenger floorboard side up under the glove box area. If you feel some wetness under there it is most likely your heater core that is leaking.
If you need to save some money now, and don't need your heater at this time you can ask your local mechanic to "by pass"  the heater core for you which will stop the leak but you won't have heat. It will not hurt anything else…just no heat inside the vehicle until you replace the heater core.
Good video on how you can by pass a heater core yourself
In any coolant leak situation I always start with getting a cooling system pressure test to help you determine where the source of the leak is coming from…unless it's obvious.
You might be able to borrow or rent a pressure tester from an auto parts store if you want to use it yourself, or just about any fast lube or repair shop can do it for you, and its cheap and fast. Without during a pressure test, you are just guessing at parts to replace. That route is always more expensive than doing it the right way, since there are many places under the hood for coolant to leak from.
Here is a video showing you how to use a pressure tester
Hope this helps.
Please share this with your friends,
Austin Davis