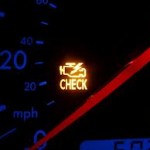 One of the most asked questions that I get each day is "my check engine light came on today, what can I do to turn it off".
It's a great question, and one that needs a little explanation….so here it goes.
First, lets talk about the color of the light that has come on. Think of your dashboard as a traffic signal, Yellow meaning caution, and RED meaning stop immediately – danger!
YELLOW LIGHTS – Service engine soon, check engine, Anti lock brake system, low washer fluid, low tire pressure, traction control, air bag, taillight bulb out warning are all common yellow warning indicator lights.
RED LIGHTS – low oil pressure, engine overheating, brake problems, low battery voltage are all common red warning indicator lights.
Yellow means, at your convenience get a mechanic to hook up their computer to your vehicle computer and read the "codes" that might be stored on your computer memory to determine what has happened.  Usually a yellow light will not leave you stranded, or cause the engine to not start.
It's a caution message from your onboard computer saying …"something weird has happened and I need you to look into this when you have a minute".
Now, yellow does not mean just continue driving as normal for months putting this warning off and off and off, but you don't have to stop what you are doing and head to the mechanic either.
Red means STOP, like STOP NOW!  Something very serious has happened and the computer in your vehicle has determined there is going to be catastrophic damage VERY SOON…if not already. In many cases I have seen a RED light for engine overheating situation by the time the light came on the internal engine damage had pretty much already taken place.
So to repeat, if the RED warning light comes on for low oil or engine overheating act immediately.  In the case of engine overheating, if you turn the heater on high it can help to relieve some of the heat from the engine and might save you from costly engine damage as you pull over and turn the engine off.
A red brake light indicator usually means there is a brake fluid leak somewhere or the brake pads have worn down far enough that it could effect stopping and can/will do severe damage to the brake rotors that come in contact with the brake pads.  Again, red means stop immediately and inspect the problem.
Now, on to that yellow check engine or service engine soon light.  This light is confusing, and needs some explanation.
The YELLOW check engine light is USUALLY assigned the task of inspecting all the emissions control sensors that are on the engine and exhaust system. There are many electronic sensors measuring fuel consumption, ignition and spark timing, testing exhaust gas emissions etc. etc.
If the yellow check engine light is on, or comes on then goes off the computer is seeing a problem with one of these emissions control sensors. The light can come on and go off because the computer tests each sensor and confirms they are working properly, but then later as you drive the sensor fails again and the computer catches the failure and turns the light back on.
It's not unusual to see vehicles where the check engine light comes on a few miles, then goes out for days…then returns.  These types of problems can be hard to track down, and it's best to wait until the light is ON when you visit your mechanic. Don't turn the engine off when you get there, leave it running and let them immediately hook up their machines if possible.
Things that do not help turn off a yellow check engine light are:
Changing the engine oil
Changing the air filter
Adding fuel additives to the tank
Adding transmission fluid – or any other under hood fluid
Things that CAN contribute to a yellow check engine light are:
Emission sensors that have failed
A sensor that was unplugged during repair work or an oil change
An engine misfire, like due to a bad spark plug or spark plug wire or ignition coil or some other ignition related part. Usually you FEEL an engine miss happening or a drastic change in engine performance
It's also important to note that multiple engine codes can be triggered at the same time. For instance, you have a bad spark plug wire and it is causing an engine miss, and sets the check engine light. This misfire can also cause the oxygen senor to over compensate (due to the miss) and go haywire which sets an oxygen sensor failure code AND the original engine misfire code.
In that instance, the oxygen sensor is fine and that code is just collateral damage from the engine miss. So don't get paranoid if you see multiple codes stored in your computer memory, find the original culprit and repair it first then clear the codes drive the vehicle and see if any codes return.
As you can probably tell by now, a yellow check engine light requires a computer code scanner….and someone who knows what they are doing and how to properly read the codes that you get.
It is my recommendation that you pay a mechanic to diagnose the problem for you, and if you want to do the repair fine you can do it yourself and save money but let them do a proper diagnosis for you.
It costs more money to guess and throw a ton of parts at the problem than it will to pay a trained mechanic to properly diagnose the reason for the light….trust me I see it all the time.
Please share this with your friends,
Austin C. Davis