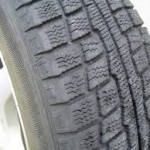 Let me first thank you for your help. I sure don't know what I should do. I have a Nissan Altima.  On the driver's side, the inside tire is wearing down pretty good. It also has a bumping feeling. I know is not the tire because when I bought new ones it still did the same thing.
Any advice?
Thanks so much, Lori
Hello Lori,
Without looking at the tire myself, I can only assume you have an "out of alignment" issue.
If one tire is wearing unevenly or more so than the others, there is probably something out of  whack with the alignment of the vehicle.
If a tire has some raised bumps on it, called scallops (chopped or cupped), this is usually caused by lack of tire rotation and wheel balancing.
Take a minute to watch my video with better explanations.
If the driver side tire is not deemed a dangerous condition by your mechanic, you might be able to rotate and balance all four wheels, move the driver tire and wheel to the rear of the car, put the best two tires on the REAR of the car, and then check the alignment of the vehicle.
The tire manufacturers have determined that the best tires with the deeper tread should be placed on the rear of the vehicle control (prevent oversteer) while driving on wet and slippery conditions, which is surely an accident waiting to happen.
Don't be swayed into buying shocks and struts as a remedy for this situation. These items are  commonly sold when abnormal tire wear is present.
In my opinion, they are sold more because the customer is familiar with the terms "shocks and struts", and the slick advertising done by the strut companies and repair shops. In 90% of the tire wear cases I see, shocks and struts are not the culprit.
Rather, out of alignment, lack of tire rotation, and wheel balancing or the failure of some front end alignment part is the cause for your tire wear.
Here is my video on when to replace shocks and struts
Please share this with your friends,
Austin C. Davis