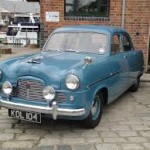 I have a car that has been sitting for 3 years (in a garage). What do I need to do to it first to begin driving it?
Thanks much,
Michael
Howdy Michael,
3 years? That's a pretty long time for a vehicle to sit, but this is what I would start with if you were in my shop.
1. Drain old fuel from tank and refill with new. If you have to drop the tank to drain out the fuel, I would go ahead and replace the electric fuel pump (if it has an electric pump in the tank) and the in tank fuel filter while I was doing this repair. (Assuming this is a fuel injected engine)
2. Replace in line fuel filter
3. Change oil and filter
4. Replace battery
5. Check all fluids and top off
6. I would add a can of Marvel Mystery Oil to the new engine oil to make sure the top end of the engine gets properly lubricated. You can buy a can at any local auto parts store.
Try to start engine and see what happens, I really would not do much more than that at first….it might just start right up. If it does, I would SLOWLY drive it around the block a few times and see how it drives; does it overheat transmission shift ok, engine sound and drive ok?
If you do get it running, I would also consider doing the following
1. Replace thermostat and flush and refill radiator with new coolant and new radiator cap
2. Service the transmission fluid and filter (unless the transmission is slipping or has Lots of miles on it and you don't know when the last filter replacement was)
3. Rotate and balance the tires (unless it has been sitting up on blocks) and inspect the brakes
If you can't get the engine running…you might have to see a mechanic at least to get a diagnosis of the problem and see if you can tackle the repair yourself at home.
Please share this with your friends,
Austin Davis