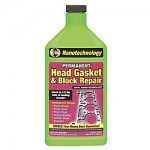 Hi there!
I get TONS of emails each week about head gasket leaks and blown head gasket problems. I was getting worn out typing replies back to my visitors so I made a video about the issue.
In the video below, you should be able to determine IF you really do have a head gasket leak (50% of my visitors do not although they were told they did) and what symptoms you should expect to see if you really do have a blown head gasket.
If you are absolutely sure you do have an internal coolant leak and the headgasket is probably the culprit I have a simple and very inexpensive suggestion for you to try yourself before you fork over a ton of money to your mechanic.
The sealer I talked about in the video is K&W Engine Block Seal, and you can find it at any parts store. Either the older version in the hard metal can (which I have always used) or the newer version in the green plastic bottle. Both seem to work very well.
I personally do not recommend using the product as the can instructs. We have been using it this way for MANY years with great success, and it is much easier to use this way.
1. Drain out all coolant from the radiator
2. Mix the sealer in a bucket with tap water
3. Pour contents of the bucket in the radiator and top off with water
4. Drive the vehicle for 500 miles total, the sooner the better
5. After 500 miles drain out the sealer and install coolant/water
If the sealer works and finds the hole, the repair should be permanent.
Make sure to keep the engine and radiator from freezing, since there is no coolant to prevent boil over or freezing during the 500 miles.
Make comments below with your success…or failure using the product.
Please share this with your friends,
Austin Davis