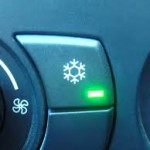 Can you tell me why the air compression in my car is not coming on?
– A/C compressor not engaging
– 2005 Town & Country.
– The A/C light comes on in the van. I am not able to hear the A/C Compressor engaging when the button is turned on.
– The 15 amp fuse & relay are good in the fuse box under the hood. I checked the relay by using another one in the fuse box.
– This is the first time trying to use it this year. Last year it worked fine.
Thanks for your help,
Mike
Hello Mike,
The first thing I would do is check the air conditioning system Freon level and pressure with A/C gauges. If you have a small Freon leak in the system and enough Freon has leaked out the low pressure A/C switch will not allow the compressor to come on.
Sometimes with the new R134A Freon systems just a small amount of Freon added to the system will be enough to allow the compressor to come on. You should then have the system checked for a Freon leak, since it is NOT normal to have to periodically add Freon to the system.
Good video on Freon leak detectors and what they do and how to use
If the Freon level checks out OK and you still have problems I would then test the electric cooling fan motor that is up in front of the radiator.
Good video on checking Freon pressures using a manual gauge
This electric fan is needed for the A/C system and the fan should be ON when the A/C compressor is ON. This fan is controlled by a relay and gets a signal from the A/C control head inside the vehicle and the on board computer.
Unfortunately both suggestions are not very easy to test yourself at home and really should be done by a trained mechanic, unless you know what you are doing. Adding too much Freon to the system can do damage.
Please share this with your friends,
Austin Davis