The massive 2007 Hummer H2 has created a new definition of style and performance. For starters, it is equipped with a huge Vortec 6000 6.0L V8 engine with a cast iron block, cast aluminum cylinder heads, and sequential fuel injection. With this engine, you get 325 HP at 5200 rmp and 365 lb-ft of torque at 4000 rmp.
Combine that engine with a Borg-Warner two-speed, electronically controlled drivetrain with full time four-wheel drive, and you're starting to really have some fun. And where do you want to go? Sporting a ten-inches ground clearance, aggressive all-terrain tires, hard line approach and departure angles, multiple skid plates, and a locking rear differential, the 2007 Hummer H2 can probably handle just about any trail wide enough to accommodate its substantial girth.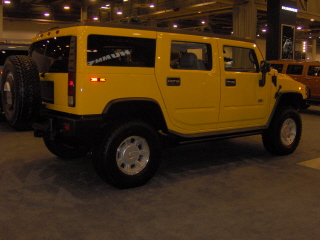 And exactly how big is it? At around 6,400 pounds, the 2007 Hummer H2 weighs the same as two Honda Accords. Of course, such incredible bulk means that even with 325 HP and 365 lb-ft of torque, the Vortec 6.0L V8 has to really crank itself up to get this vehicle up to performance range. As you'd expect, gas mileage is a huge let-down at an average of less than 10 mpg.
So what do you do in such a huge car? The most popular activity among H2 owners seems to be being seen in it. The Hummer H2 has been popular with celebrities, rap artists, and suburban housewives alike. It's a real eye catcher. And if you fancy being seen at the gas pump, it's even better.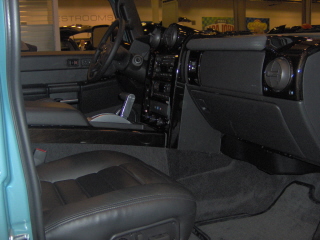 The 2007 Hummer H2 is also available as an H2 SUT model, which is a cross between an SUV and a truck. The H2 SUT has a midgate bed similar to the GMC Envoy and Chevy Avalanche. When you fold down the forward bed and the rear seats in the cabin, you can get about 4 x 6 feet of usable space. And the bed is lined with a durable composite material to resist damage.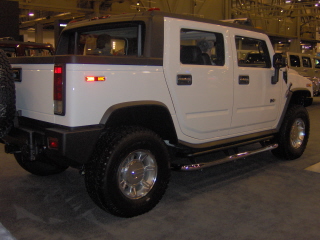 Hummer is offering two 2007 Hummer H2 Limited Edition models: one in Victory Red and one in Glacier Blue, both available in either an SUV or SUT luxury model. Some of the features included in these limited edition offerings are:
Carbon fiber appearance interior trim pieces
Rear DVD entertainment center /li>
Heated windshield washer fluid system
17 in flangeless chrome wheels
Roof-mounted light bar
Rear vision camera
Numerous chrome accents
These limited edition models come with an MSRP in the $65K to $66K range depending on model and options.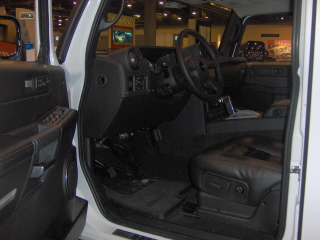 ***image5:right***