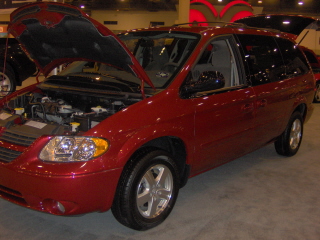 Other than a shiny new coat of paint, the 2007 Dodge Grand Caravan is a 2006 Grand Caravan with a new label. Looks like Dodge is saving their engineering dollars to make a big splash in the minivan market with a re-designed Grand Caravan for 2008.
What can you expect if you wait until 2008 to get a new Dodge Grand Caravan? You'll probably get a bigger engine somewhere in the 4.0 Liter range. And performance will also be enhanced with a six-speed transmission. Also expect Dodge to factor in loads of storage capacity and options—since those are the features that the Grand Caravan has become so popular for.
But since it is still 2007, let's look at what you can expect from this year's model. Two snazzy new paint colors aren't everything that Dodge is offering this year. If you and your family are expecting to travel quite a bit in your minivan, then the Grand Caravan is for you. You'll find storage space in removable consoles, in the floor, and even on the ceiling. Extra water bottles for everybody fit in the amazing fourteen standard cupholders. And you have up to thirteen different configuration options for seating with the Grand Caravan's Stow-n-Go seats that fold into the floor.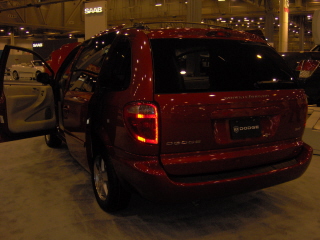 Other popular features and options include:
Powerful 3.3 L or 3.8 L V6 engine (standard)
Four-speed automatic transmission (standard)
Leather seats
Adjustable power driver seat and pedals
Power sunroof
Power liftgate
Power sliding doors
Side impact airbags
The 2007 Dodge Grand Caravan is known for its smooth ride and interior versatility. If you want the best value for your minivan bucks, choose the Grand Caravan SE. It comes standard with a 3.3 Liter V6 engine with 170 horsepower. Expect 19 MPG city and 26 MPG highway gas mileage.
If you are inclined toward a more luxurious model, then the Grand Caravan SXT is for you. The Grand Caravan SXT is equipped with a 3.8-liter, V6 engine boasting 200-horsepower. You get approximately 18 MPG in the city and 25 MPG on the highway. A 4-speed automatic transmission with overdrive is standard on both trims.
Dodge also offers the Grand Caravan in a cargo van model for owners who haul more stuff than people. The MSRP range for the 2007 Dodge Grand Caravan models is $23,690 – $27,775.