The 2007 Cadillac XLR Roadster is a midlife crisis management tool like no other. Beautiful and sporty on the outside (especially in a gorgeous dark red), it's also built like no other convertible on the inside.
The frame and structure of the Cadillac XLR Roadster are true works of engineering technology. The XLR is built of aluminum, magnesium, and other complex materials that enable to car to resist bending and torsional forces. The XLR gets its strength and stability from two 170 inch long hydroformed (shaped by water pressure) steel perimeter rails that run the entire length of the frame.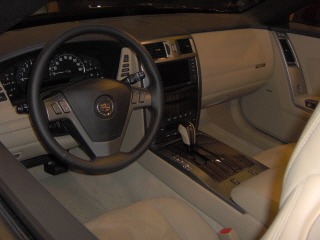 The extremely rigid aluminum cockpit and other lightweight but incredibly strong components insure that you cruising in style and speed all the way to retirement. What I'm trying to say here is that you are going to love driving this roadster so much that you won't ever want to part with it.
You'll enjoy the one-button power retractable hard top. You'll appreciate the radar guidance adaptive cruise control. You'll feel like you are floating down the road with the magnetic ride control suspension. And you won't feel cramped at all with an impressive 42.5 inches of leg room.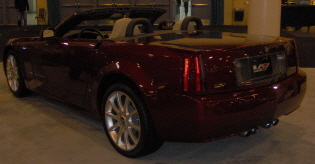 The XLR makes you feel like you are in luxurious control with its keyless push button start access and its OnStar Turn-by-Turn navigation system. And don't forget the XLR windscreen to reduce wind noise and wind-blown hair.
What is this ride of your life going to cost you? Prices start at $79,000.
A few of the great standard features for the 2007 Cadillac XLR Roadster:
4.6L 320 HP Northstar V8 engine
StabiliTrak computer controlled stability control
MagneticRide Control
18 inch aluminum wheels
Magnasteer steering
Power retractable roof
Keyless access
Adaptive cruise control
memory package