What a gorgeous car! The Cadillac Seville STS (Seville Touring Sedan) is Cadillac's new-and-improved version of the Seville that was so popular in our parents' and grandparents' generations.
Especially here in Texas where ladies have always been known for our big hair and big cars. While the Germans and Japanese have tried hard to corner the sedan market in recent years, Cadillac continues to offer a tremendous value for the luxury and power offered in the 2007 Cadillac Seville STS.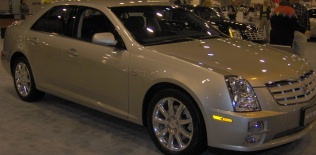 The STS is a finely tailored, full size luxury sedan—which makes it very competitive in its current midsized sedan price range. Popular features and options for the 2007 Cadillac Seville STS include:
V6 or V8 engine
Seventeen inch wheels
Dual zone climate control system
OnStar
Head-up display
Bose sound system
Leather seating
Heated/ventilated front seats
Performance and luxury trim packages
As highlighted above, the 2007 Cadillac Seville STS offers two engine options: 1) 3.6-liter V6 rated at 255 horsepower and 252 lb-ft of torque, and 2) 4.6-liter Northstar V8 SC that generates 469 hp and 439 lb-ft of torque. What does that mean to you?
First of all, these engines offer more horsepower than any production Cadillac to date. If you want good performance with the best price tag and the most economical gas mileage, opt for the basic rear-drive V6.
If you're interested in peak performance in all driving conditions and are willing to pay a little more, then the all wheel drive V8 engine has been designed just for you.
The 3.6-liter V6 is equipped with a five-speed automatic transmission. A six-speed automatic with Driver Shift Control (DSC) allows the 4.6-liter V8 to provide remarkable acceleration as well as excellent fuel economy for this class.
The DSC lets drivers manually shift gears for sports driving and for manual control while trailering or mountain driving. Both engine options come with electronic throttle control and variable valve timing.
As previously mentioned, the 2007 STS is a great bargain considering the quality and luxury built into this car for its baseline price tag of $43,000. It also comes with Cadillac's 100,000 mile warranty.
You can appreciate the beauty of the 2007 Cadillac Seville STS just by looking at the picture above. It is quite an impressive sedan. But you can't feel the power and performance engineered into this machine until you sit behind the wheel and drive it for yourself.
When you do, you'll understand very quickly that the 2007 STS is definitely NOT your grandmother's Cadillac sedan.