Want a real SUV driver's SUV? Want the most powerful 6+ seat vehicle on the road? Then you are looking for the new 2007 Cadillac Escalade. Each one comes with an impressive 6.2 Liter 403 horsepower Vortec V8 Variable Valve Timing (VVT) engine with 417 lb-ft of torque.
Not only will the Escalade get you where you are going in style and comfort, but the VVT continuously manages the exhaust and intake valves to ensure the most favorable combination of high-end horsepower and low-end torque for your driving conditions. What does all of this mean in plain English? You've got yourself the most powerful, efficient, luxurious driving machine on the road.
The Escalade is also equipped with Cadillac's Driver Shift Control (DSC) feature which allows you to manually shift gears. If you are going to be driving in the mountains or trailering with your Escalade, this feature is a must-have.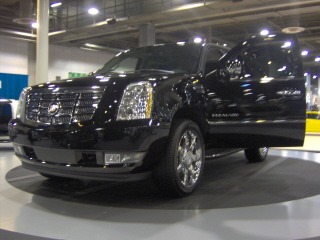 Along with performance, safety is paramount in the design of the 2007 Escalade as well. For starters, there are very few vehicles on the road that could run over you in this thing! And for those crazy enough to try running into you ("Gosh officer, I just didn't see that massive hunk of car!"), you've got head curtain side-impact air bags in all passenger rows. Partner incredible safety features with an OnStar System—packaged with one year of directions and their connection plan—and you're about as secure as you can be.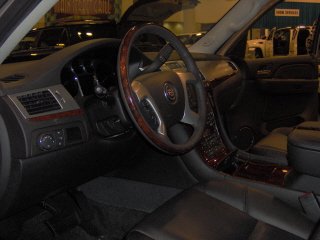 Here are some of the great features and options for the 2007 Cadillac Escalade:
6.2L 403 HP Vortec V8 VVT engine
StabiliTrak computer controlled stability control
Electronic road-sensing suspension
Power adjustable gas and brake pedals
Side-impact air bags in all passenger rows
Segment-leading maximum capacity cargo area
Power liftgate
Rainsense automatic windshield wipers with heated fluid
Xenon HID headlamps
Bose® Discrete Surround Sound Audio System
OnStar System
And what are you going to pay for your beautiful new 2007 Escalade? If the rear-wheel drive Escalade will meet your needs, you are looking of a base price of around $53,850. If you are looking at the all-wheel drive Escalade models, you will be spending $56,405 and up.