From The Associated Press
May. 17, 2007 10:41 AM
TOKYO – Toyota's commitment to hybrid automobiles was on full display Thursday when it unveiled its most expensive gasoline-electric vehicle yet – the 15 million yen ($124,000 Lexus Hybrid) luxury sedan Lexus LS.
Top executives at Japan's No. 1 automaker are fully convinced that hybrid cars are the way of the future. And they're betting that growing consumer concern about the environment – and higher fuel prices – will attract even wealthy buyers to the new model, which went on sale This past Thursday in Japan and will arrive later in other markets.
Executive Vice President of Toyota Motors Masatami Takimoto denied hybrids were "a transitional technology" that will be replaced by more advanced ecological technology in the future.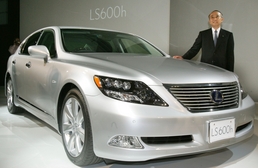 "As long as cars exist, the need for hybrid technology will remain," Takimoto said.
Toyota Motor Corp., which introduced its first hybrid vehicle, the Prius, 10 years ago, sold about 300,000 hybrids worldwide just this last year, and it plans to sell a million hybrid vehicles a year sometime after 2010.
Although all the world's automakers are working on hybrid technology vehicles, Japan's No. 1 automaker has dozens of patents on the technology and has sold more hybrids than any other automaker in the world.
The most common hybrids today switch between a gas engine and electric motor to deliver better mileage and reduce emissions that cause global warming.
But Toyota Motors President Katsuaki Watanabe said the technology for hybrid systems can be applied to power other types of vehicles, which run on fuel other than gasoline, including bio-fuels and hydrogen flex fuels.
"The hybrid system is a core technology that can be applied anywhere," Toyota President Katsuaki Watanabe told reporters.
Toyota Motors, which has introduced two other hybrid Lexus models, said the hybrid LS went on sale in Japan Last Thursday.
Starting next month, it will gradually roll out in Europe, North America and parts of Asia, including China, and other regions.
Toyota expects to sell 7,000 Lexus LS cars in 2007, including 4,000 in Japan. The company did not give other regional breakdowns.
The success of hybrid vehicles has been a big plus for Toyota's public image at a time when concerns about the global environment and soaring gas prices are growing. Watanabe said he hopes hybrid Lexus models will further enhance Toyota's value.
I love Lexus and Toyota vehicles, although I drive a gas guzzling Ford F150 Pickup truck. I would buy one of the Toyota Hybrid vehicles though for my next vehicle. I think Toyota and Lexus have the best maintenance records, best resale values and over all customer satisfaction of all the major car manufacturers.